Frames Host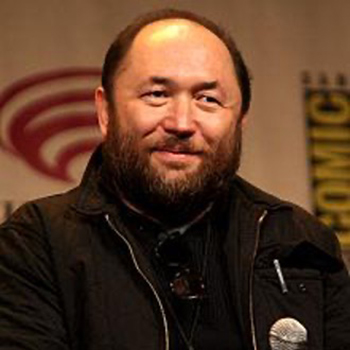 Timur Bekmambetov is a Kazakh-Russian film director known for vampire franchise Night Watch (2004) and Day Watch (2006).
He was born Timur Nuruakhitovich Bekmambetov on June 25, 1961, in Guryev, Soviet Union (now Atyrau, Kazakhstan). His father, Nuruakhit Bekmambetov, is a manager at Guryev Energy company; his mother, Mira Bogoslavskaya, was a journalist. Young Bekmambetov was raised along the Ural river in Kazakhstan, Soviet Union.
In 1978, aged 17, he moved to Moscow. There from 1978 to 1980 he attended the Moscow Energy Institute, but he was more interested in art and movies. Eventually, he dropped out of college, and joined the cultural milieu around such artists as Anatoli Zverev and Oskar Rabin. Then, from 1982 to 1987 he studied painting at Tashkent Theatrical Art Institute, graduating in 1987 as artist of theatre and film. From 1987 to 1988 he served in the Red Army stationed at artillery division near Ashkhabad, Turkmenistan. Then he worked as set designer at "Ilkhom" Drama Theatre in Tashkent, and at Uzbek Film Studio.
Since 1989 he has been directing commercials. In 1992 Bekmambetov made his directorial and writing debut with Peshawar Waltz (1994), a film about the Soviet war in Afghanistan which received awards at several festivals in Europe. From 1992 to 1997 he made 18 commercials for the Russian bank "Imperial" and was named best young director of 1997 by Russian Film Academy. In 1999 he started his own film company, Bazelevs Production.
His big break came with the success of the vampire franchise Night Watch (2004) and Day Watch (2006), which he directed during 2003 – 2005. Both films became international blockbusters, and received several awards and nominations. The third installment, Twilight Watch (2009), is slated for release in 2009.
Since 2005, Bekmambetov has been working in Hollywood, writing, directing and producing several flicks, such as Wanted (2008), 9 (2009), and The Red Star. Back in Russia, he made another success directingThe Irony of Fate 2 (2007), a romantic comedy based on the Soviet era characters and capitalizing on nostalgia among some of the post-Soviet audiences.
Timur Bekmambetov established himself as a master of dense narrative. His films often surprise the viewers with eerie details, hectic pace and unusual twists and turns, and remain a challenge even for experienced audiences.