Trailblazer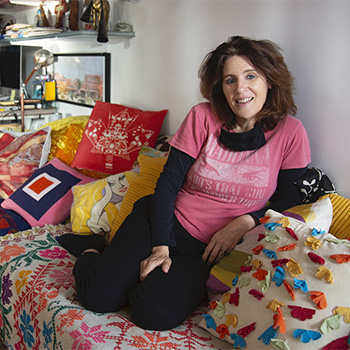 Photo by Larry Hirshowitz
Frances Anderton covers Los Angeles design and architecture for print and radio.
She is currently writing a book, Common Ground: Multifamily Housing in Los Angeles, for Angel City Press.
She recently completed the production of Wasted: Neat Solutions to the Dirty Problems of Waste, to air on the daily show Greater LA, on KCRW public radio station. For many years she hosted KCRW's DnA: Design and Architecture radio show; prior to that she produced To The Point and Which Way, LA?, hosted by Warren Olney, also for KCRW.
Past series for DnA include Bridges and Walls, a series about the barriers and connections–both metaphorical and physical–shaping life in California today, and This is Home in LA: From the Tent to the Gigamansion (and Everything In Between).
Anderton also works with Helms Bakery District on programming talks and events for its design center. She has curated exhibitions, including Sink Or Swim: Designing For a Sea Change, a critically received exhibition about resilient architecture, shown in 2015 at the Annenberg Space for Photography.
She has served as correspondent for the New York Times and Dwell magazine. Her books include Grand Illusion: A Story of Ambition, and its Limits, on LA's Bunker Hill, based on a studio she co- taught with Frank Gehry and partners at USC School of Architecture.
Honors include the Esther McCoy 2010 Award for her work in educating the public about architecture and urbanism from USC School of Architecture's Architectural Guild; she was SCI-Arc's "Honored Guest" at its 2018 Main Event and received the 2020 ICON Award from the Los Angeles Design Festival.