Fellowship Advisory Committee Member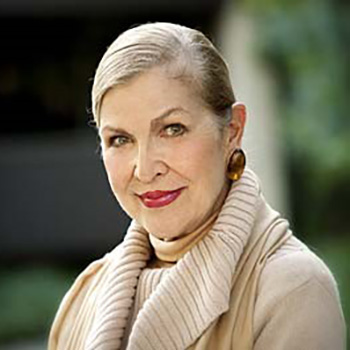 Since 1993, Carol Soucek King, M.F.A., Ph.D., has devoted much of her time to writing uplifting design-oriented books from her home "Arroyo del Rey" [King's Creek] in Pasadena. King's twelve published books range from her first one Empowered Spaces [PBC International, 1993], to Unique Homes [HarperCollins' Collins Design, 2006] Also from her home King concurrently has established The Institute of Philosophy & the Arts via its two inspirational organizations, The Salon on the Spiritually Creative Life as well as The Painting Society of Arroyo del Rey.
In March 2009, the Pasadena City Council officially designated the Kings' home, designed for them in 1979 by architects Conrad Buff III, FAIA, and Donald C. Hensman, FAIA, a Historic Monument.
Among highlights distinguishing Carol's life path prior to 1993 are:
Editor in Chief of Designers West magazine from 1978 to 1993 and credited for Designers West's award-winning coverage of residential, corporate and hospitality design. Also Editor of Designers World.
Previously, Editor, Lifestyle Section, Los Angeles Herald-Examiner; Drama Critic , Santa Monica Evening Outlook; Director of Research Project (on nine non-university-connected U.S. schools of music) sponsored by the United States Office of Education/Department of Health, Education & Welfare; and actress in television and play productions.
Numerous awards for her support of design excellence professionally and in education.
Bachelor of Arts degree (English Literature) and Doctorate of Philosophy degree (Communications) from the University of Southern California. Studies at Cambridge University in England. Master of Fine Arts degree (Drama) from Yale University.
Philanthropic and civic activities include: Assistance League of Southern California (Lifetime Member); Junior League of Los Angeles (Sustaining Member); Woodbury University Library Associates (Founding Member); Nichi Bei Fujin Kai (President, 2006-2008); Tuesday Reading Group (President, 2005-2007).